BOOK BY BROTHER BRIAN DYBOWSKI, FSC, PhD
SUNBEAMS FROM A SHINING LIFE:
SAINT AUGUSTINE OF HIPPO
CHAPTERS
● Getting to Know Augustine ● Augustine Changes His Mind ● Augustine Loved Truth ● Augustine・s Steps towards Christ ● Augustine・s Struggle to Accept Scripture ● Prayer, the Life of the Soul ● Spiritual Healing ● The City of God ● What Is Grace; How Does it Work? ● A Glimpse of St. Augustine・s Theology ● How God Unites With Us ● Augustine's Reflections on the Trinity ● Fulfillment of Love in Love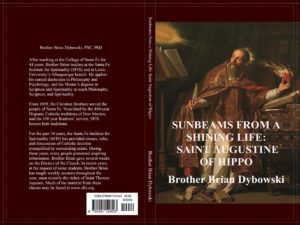 For Sale from The Book Patch at $9.99 plus shipping and handling.
PDF also available for $2.99 from The Book Patch.
This URL will take you directly there: htttp://thebp.site/94918